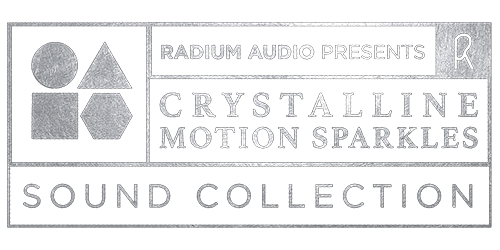 CRYSTALLINE MOTION SPARKLES is a collection of beautiful, ethereal hyperdetailed designed sounds. A SPARKLE SOUND LIBRARY created to add sparkle sound design, graceful glamour, shimmering motion and celestial magic to your audiovisual storytelling.
PERFECT for weaving fantasy realms, winter wonderlands, Christmas themes, magical tales and moonlit adventures. Infuse opulence and charisma into your jewellery, watch, automotive and luxury brand content. Infuse your sound design and video edits with crystal shimmers, diamond glimmers, fantasy spellcasts, sparklesound passbys, twinkling soundbeds, and glistening particle showers. Sparkle Sound Effects READY to drop straight into your edit right now.
WHAT's INSIDE

SWOOSHES – SPELLCASTS – SWEEPS – TONAL SPARKLE BEDS – TWINKLES – GLINTS – FREEZES
CREATE Sparkle Sound Design, Sparkly Whooshes, Fairy Flitters, Crystalline Passbys, Fantasy Spellbursts, Magical Reveals, Vanishing Poofffs, Shimmering Motions, Icy Winds, Particle Rains, Frozen Atmospheres, Shimmering Lights, Ice Glints, Miraculous Reveals, Twinkling Sound Beds, Sparkling Atmospheres, Scintillating Nebulae, Dancing Dustdevils, Enchantments Cast, Gleaming Reflections, Marvellous Reveals, Interdimensional Veils, Alchemy Transmutations, Sparkle Sound Effects Layers and more …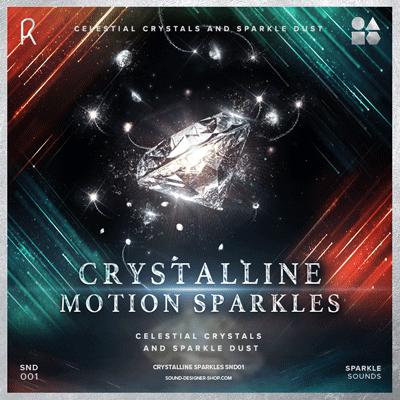 Hear The Sounds
Enter the Magical Crystal Cave – Atmosphere
Behold! The Enchanted Spell Cast
Invitation to Swoosh and Fly at the Fairy Dance in the Secret Garden
Explore the Sparkling Diamond Mines
Winter Christmas Wonder Landscape
WHERE TO USE IT
Film Soundtracks, TV Productions, Online Content, Promo Spots, Adverts, Music Production, Logo Reveals, Brand Content, Animations, Motiongraphics, Social Media Content, Mobile Apps, Children's Content, Audio Books, Podcasts, Radio Content, Public Events, Educational Marketing Content, Art Installations and more …
WHO IT'S FOR
Sound Designers, Musicians, Composers, Sound Editors, TV Editors, Video Editors, Animators, Film Editors, Sonic Artists, Art Installations, Music Producers, Post Production Houses, Film Students, Sound Design Students, Filmmakers, Aspiring Media Professionals, Creative Agencies, Design Agencies, Audiovisual Content Creators.
How We Made It
CRYSTALLINE MOTION SPARKLES has been handcrafted from a huge collection of joyfully discovered, carefully chosen foley props combined with purpose built instruments and bespoke sculpting techniques to create this suite of stunning sparkle sound effects. Over 100 sonically sparkling, shimmering, reflecting and glimmering items have been collected painstakingly over a number of years from all corners of the globe, which have then been performed, recorded, incorporated into custom built instruments, manipulated, processed, and finally designed, edited, mixed and mastered into this magical sparkle sound design collection, to help you tell YOUR story.

ABOUT THE CREATORS
Industry leading, Emmy award winning music and sound design creative team RADIUM, based in their 3,600 sq ft Bristol Studio and Sound Garden facility, are sought after for their ability to conceptualise, create and capture unique sound worlds. Radium's approach of creating sonic universes from found sound and purpose built instruments melded with digital technology has contributed to an impressive decade long industry track record, multiple awards and a long list of film & game trailer, broadcast, and high end advertising credits. More information and expanded credits list available HERE.
CREDITS
Bloodshot | The Turning | Antlers | The Mandalorian | It Chapter 2 | Midway | Men in Black: International | Hobbs & Shaw | Ad Astra | Brightburn | Gears of War | Terminator Dark Fate | Avengers 4: Endgame |Captain Marvel | Pet Sematary | Us | Alita: Battle Angel | Goosebumps 2 | Mary Poppins | Artemis Fowl | Venom | First Man | Ant Man & the Wasp | Battlefield 5 | Girl in the Spider's Web| The Darkest Minds | Sicario 2: Soldado | Jurassic World 2:Fallen Kingdom | A Quiet Place | Red Sparrow | Bladerunner 2049 | Black Panther | Avengers 3: Infinity War | Bohemian Rhapsody | The Dark Tower | The Foreigner | Maze Runner 3:The Death Cure | The Commuter | Insidious 4:The Last Key | Skyscraper | Game of Thrones | Atomic Blonde | Alien Covenant | Ghost in the Shell | The Walking Dead | Rainbow Six Siege | Kingsglaive:Final Fantasy XV | Warcraft:The Beginning | Eye in the Sky | Jurassic World | Everest and MORE …
PRE-LAUNCH SIGNUP
Get future collections in advance of public release

EVERYBODY LOVES THINGS THAT SPARKLE